January 17, 2017
One way to attract more job applicants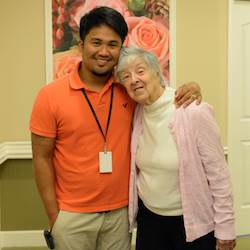 Photo by John Merkle.
Senior living communities seeking to increase the number of people applying for open caregiver positions can learn a lesson from the data-crunchers at Textio.
The takeaway: Stop using language perceived to be feminine in your want ads and you may stop repelling male applicants, too, according to the Seattle-based artificial intelligence startup, which aims to help companies in their recruiting efforts.
Textio looked at recruitment ads for some of the fastest-growing healthcare occupations, which frequently are thought of as "pink-collar jobs" — among them, nurse practitioner, home health aide, occupational therapy aide or assistant, and physical therapy aide or assistant.
"In general, listings for pink-collar jobs are more feminine in tone," Alexandria Hall, a "customer success engineer" for the company, wrote in a blog posting. "The roles seen as most suited to women and their characteristics are full of words and phrases that statistically attract more women. This reveals an opportunity for employers to shift the language used to talk about pink-collar jobs."
Examined listings for home health aides, for instance, included the words such as sympathetic, care and empathy, whereas listings for a position viewed as more masculine, cartographer, featured words such as manage, proven and superior. Similar words also would apply to healthcare positions, however, Hall said.
"We can get more men applying to pink-collar jobs by shifting the language so that more candidates can picture themselves in the role," she wrote.