December 13, 2017
Operators press lawmakers as popular funding option is threatened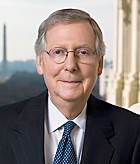 Sen. Mitch McConnell
Nonprofit organizations are urging Republican lawmakers not to mess with a frequently used financing tool.
Specifically, they are warning lawmakers that eliminating tax-exempt private activity bonds would make it far more challenging for them to improve or expand services. The House version of the bill would eliminate private activity bonds.
A letter signed by nearly three dozen groups protesting the possible elimination was sent to lawmakers in the House and Senate this week.
"A loss or restriction of the tax-exemption of interest on these bonds would immediately increase costs to state and local governments and nonprofits," the letter notes.
At the same time, a growing number of nonprofits are hurrying to issue bonds before new rules possibly kick in. The Wall Street Journal reported that during the first week of December, senior living organizations, hospitals and universities issued more than $4 billion in private activity bonds. That's a threefold increase from the same period a year ago. Some analysts predict that about $8 billion in nonprofit healthcare bonds will be issued by the end of December.
See our previous coverage related to private activity bonds in the links below under "Related Articles."