January 10, 2018
Owners re-examine financing options after tax bill passage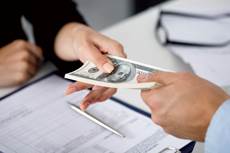 Operators re-examine financing options after tax bill passage
Passage of the Tax Cuts and Jobs Act has changed the financing landscape, but several options remain for senior living operators.
That's the message that Steve Kennedy and Kyle Hemminger share in a new post. Kennedy is a senior managing director and member of the executive committee at Lancaster Pollard, and Hemminger is a vice president.
Some of the options they described, in addition to private activity bonds, which were threatened but ultimately not eliminated by the bill:
Revenue bonds. Tax-exempt revenue bonds offer a short closing period, but senior living organizations rated below the 'BBB' category will face additional pricing and covenant pressures, Kennedy and Hemminger said.
USDA loans. U.S. Department of Agriculture Rural Development Community Facilities Direct and Guaranteed loan programs are options for senior living communities in areas with fewer than 20,000 people. The programs offer permanent financing with a 40-year term and amortization; low, fixed interest rates; and minimal financial covenants, according to Kennedy and Hemminger. Time from start to closing typically is 12 to 18 months, however, and there are limits on the ability to refinance existing debt, they said. Also, a one-year debt service reserve funded from cash flow over a period of 10 years is required.
Federal Housing Administration program. The FHA Section 232 program offers low interest rates, long terms with matching amortization and prepayment flexibility, Kennedy and Hemminger said. The program is not available to entrance fee communities, however, and it puts a limit on the number of unlicensed units, they said.
Fannie Mae program. Rate lock with a Fannie Mae loan typically can be achieved in fewer than 45 days after application, according to Kennedy and Hemminger. Early rate lock options also are available, they added.
"The end of 2017 should serve as an important reminder to nonprofit organizations," Kennedy and Hemminger wrote. "These organizations cannot take existing financing alternatives for granted as they may not exist in the future."
Get more information by reading their entire post on the Lancaster Pollard website.