May 14, 2017
Person-centered MLTSS programs require data: report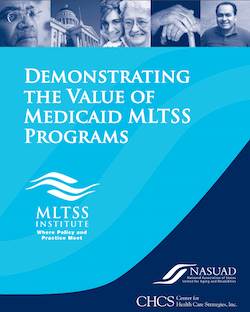 Person-centered MLTSS programs require data: report
States can help ensure that their Medicaid long-term services and supports programs are person-centered by measuring access and consumer satisfaction before and after they transition from a fee-for-service model to a managed care model, according to a report released Friday by the National Association of States United for Aging and Disabilities.
A "primary concern" of stakeholders when managed care organizations implement MLTSS programs, according to the report, are that the programs will use a medical model rather than focusing on individual beneficiaries.
Standardized quality measures are important in this effort, said the authors of the report, "Demonstrating the Value of Medicaid MLTSS Programs." The document, developed with the Center for Health Care Strategies, includes evidence from a survey of state agencies and a review of outside research.
"As states collect and share more MLTSS program data — such as measures of consumers' health status and other variables like cost and service utilization — they can demonstrate value and build stakeholder support for their programs," said Stephen A. Somers, CHCS president and CEO.
Surveyed states said that when implementing an MLTSS program, demonstrating its value requires:
Rebalancing Medicaid LTSS spending from institutional care to home- and community-based services;
Improving member experience, quality-of-life and health outcomes;
Reducing waiting lists for waiver services and increasing access; and
Increasing budget predictability and managing costs.
The organizations said they hope the report will generate national discussion on the value of MLTSS programs, stimulate informed policy development and program design, and promote high-performing state systems that provide care for older adults and people with disabilities.