August 15, 2016
Planning an outing to the fair? Avoid the pigs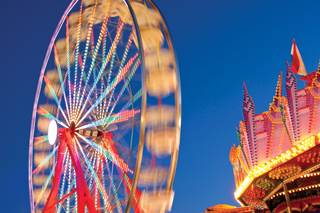 (BluIz60/iStock/Thinkstock)
If your activities calendar has a trip to an upcoming county or state fair on it, bypass the pig exhibits.
Four cases of swine flu recently were documented — two in Ohio and two in Michigan — among people who had direct exposure to swine at county fairs in the week preceding their illness, according to the Centers for Disease Control and Prevention. Pigs at the fairs have tested positive for the infection.
Those are the first cases of swine flu in humans reported in the United States this year. The infected fair visitors were not hospitalized and continue to recover, according to the CDC.
Human infection with swine flu — in these cases, influenza A (H3N2) variant ("H3N2v") virus — occur sporadically, especially in summer and fall months, when fair season in the United States brings an increase in interactions between people and pigs, according to the CDC.
Adults aged more than 65 years and people with certain chronic health conditions (such as asthma and other lung disease, diabetes, heart disease, weakened immune systems, and neurological or neurodevelopmental conditions) are at high risk of developing serious illness from variant virus infections, just as they are from seasonal influenza, the agency noted. Older adults and high-risk individuals who develop flu symptoms should tell their healthcare providers about their high-risk conditions and any exposure to pigs or swine barns that they have had recently, the CDC recommended.
The human seasonal flu vaccine will not protect against commonly circulating swine influenza viruses, but prescription influenza antiviral drugs can treat infections with these viruses in humans, the agency said.
The CDC has posted guidelines to prevent the spread of flu between pigs and people on its website.