February 23, 2016
Report: Communities in 4 states dominate in well-being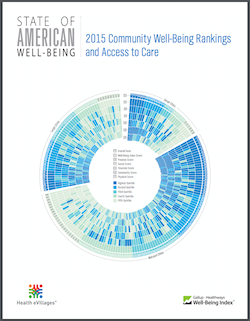 Report: Communities in 4 states dominate in well-being
When it comes to well-being, communities in Florida, California, Colorado and Texas dominate, according to a new report from Healthways Inc. and Gallup.
The research, produced in collaboration with Health eVillages, a program of Robert F. Kennedy Human Rights and Aptus Health, ranks 190 U.S. communities for overall well-being and includes a special section on community access to basic healthcare services, such as health insurance and having a personal doctor.
"Leaders need metrics that illuminate where the pressing needs exist and where to invest for change," said Kerry Kennedy, president of the Robert F. Kennedy Human Rights and a member of the Health eVillages board of directors.
The analysis is based on data from the Gallup-Healthways Well-Being Index, a measure of real-time changes in well-being.
The 10 U.S. communities with the highest well-being:
Naples-Immokalee-Marco Island, FL (highest)
Salinas, CA
North Port-Sarasota-Bradenton, FL
Fort Collins, CO
Barnstable Town, MA
Santa Cruz-Watsonville, CA
Boulder, CO
Charlottesville, VA
Anchorage, AL
San Luis Obispo-Paso Robles-Arroyo Grande, CA
The 10 U.S. communities with the lowest well-being:
Charleston, WV (lowest)
Fort Smith, AR–OK
Hickory–Lenoir–Morganton, NC
Huntington–Ashland, WV–KY–OH
Chico, CA
Youngstown–Warren–Boardman, OH–PA
Toledo, OH
Worcester, MA–CT
Dayton, OH
Rockford, IL
"It's not impossible to improve well-being in communities," said Dan Buettner, Blue Zones LLC founder and National Geographic Fellow. "By focusing on making healthier surroundings, we've been able to help people live longer and better in 26 American cities. The key is identifying evidence-based designs and policies that make the healthy choice, the easy choice."
The report also ranks cities by the individual factors that go into the overall rankings: physical health and an individual's sense of purpose, social relationships, financial security and relationship to the community.