May 04, 2016
Report: Older adult oral health varies by state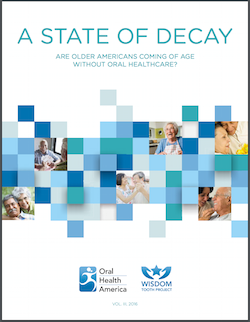 Report: Older adult oral health varies by state
States should mandate oral health services for those living in assisted living communities, skilled nursing centers and other long-term care settings, as well as for those living at home, according to a new report.
"A State of Decay, Vol. III," by Oral Health America, also details other ways that states should address the oral health needs of those aged 65 or more years. Overall, the report found that where an older adult lives can be very important to his or her oral health.
"While many Americans face obstacles when it comes to oral health, older adults are at an increased risk due to challenges with accessing care," said Dushanka Kleinman, D.D.S., a dentist and associate dean for research and academic affairs at the University of Maryland School of Public Health. "We have to develop solutions at the practice and policy level to address the barriers older Americans experience."
The report rated states as "poor," "fair," "good" or "excellent" based on data related to five variables: edentulism (loss of all teeth), adult Medicaid dental benefits, community water fluoridation, basic screening surveys (a surveillance of the oral health conditions of older adults in community and long-term-care settings) and state oral health plans.
Two states, Minnesota and North Dakota, emerged as models, with "excellent" ratings and composite scores of 100% and 96%, respectively. The next-best states included Connecticut, Wisconsin, Rhode Island, Indiana, Florida, Virginia, Colorado and Michigan.
The states with the lowest composite scores were Utah, Oklahoma, Texas, New Jersey, Montana, Mississippi, Wyoming, Hawaii, Tennessee and Alabama. The final evaluations for all 50 states, however, revealed that 76% of states earned composite scores of 50% or less.
Additional findings:
33.6% of the older adult population of West Virginia has lost all of their teeth.
60% or more of residents of five states live in communities without fluoridated water. Hawaii (89.2%) and New Jersey (85.4%) have the highest rates of residents living without fluoridated water.
Eight states provide either no dental benefit or emergency coverage only through adult Medicaid dental benefits. Four states cover the maximum possible dental services in Medicaid.
42 states lack state oral health plans that mentions older adults, with 14 states lacking any type of state oral health plan. These plans are where states could mandate oral health services for older adults.
23 states have never completed a basic screening survey and have no plans to do so.