September 20, 2016
Report recommends changes for programs serving dual-eligible beneficiaries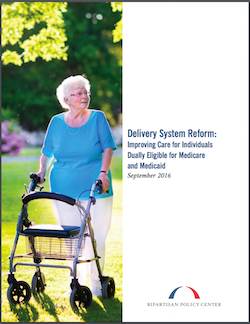 Report recommends changes for programs serving dual-eligible beneficiaries
A new report from the nonprofit Bipartisan Policy Center calls for revising existing payment models to better integrate care for dual-eligible beneficiaries of Medicare and Medicaid, creating a new framework for providing care and services to these beneficiaries, and consolidating the regulatory authority for dual-eligible policies within the Medicare-Medicaid Coordination Office at the Centers for Medicare & Medicaid Services.
The intended result of the efforts, according to the center, is a streamlined system that provides higher-quality care.
An estimated 10.3 million low-income older adults and individuals with disabilities qualify for both Medicare and Medicaid. When BPC analyzed 2011 claims and administrative data, it found that dual-eligible individuals who are admitted to the hospital for congestive heart failure or chronic obstructive pulmonary disease were twice as likely to be re-hospitalized during the year compared with all other Medicare beneficiaries with the same conditions.
"More importantly," said former Senate Majority Leader Bill Frist, M.D., who co-chairs BPC's Health Project with former Senate Majority Leader Tom Daschle, "the data show that better care coordination not only reduces these costly hospitalizations and [emergency department] trips, but in some states, has led to an expansion of home and community-based services that extend the time patients are able to remain in the comfort of their own homes."
The report authors also recommend that CMS test several Program of All-Inclusive Care for the Elderly initiatives, including an expansion of the program to individuals, regardless of age, who meet all other PACE criteria and who do not require a nursing home level of care; an option that permits individuals to enroll in PACE but opt out of adult day services; and an option that includes both Medicare-covered services and a beneficiary "buy-in" of a limited long-term services and supports benefit that is less than the full-range of Medicaid-covered LTSS for individuals who are not eligible for Medicaid and whose income exceeds 300% of Social Security eligibility income.