April 13, 2016
Report: Seniors housing attractive investment but still faces challenges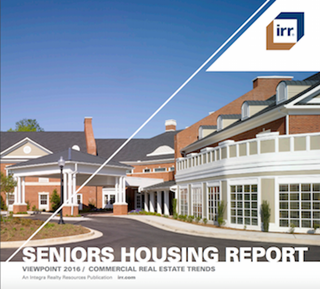 Report: Seniors housing attractive investment but still faces challenges
Over the long term, seniors housing will remain an attractive investment, although providers will be challenged to recruit and retain staff members as the ratio of working-aged adults to seniors continues to decline over the next several decades. That's according to a new report by New York City-based independent commercial real estate valuation and consulting firm Integra Realty Resources.
Saturation in assisted living and memory care will lead to lower occupancy levels and rents in some markets, according to the report, but available capital will keep buyers interested and prices high. Still, transaction records won't likely be set this year, maintains author Charles A. Bissell, who is IRR's national practice leader for seniors housing and healthcare. "Transactions will continue at a healthy pace, but with the big three [real estate investment trusts] being not nearly as aggressive, the market should not be as frothy as it was in 2015," he says.
Bissell bases his conclusions on data from IRR and the National Investment Center for Seniors Housing & Care's MAP Data Service.
Valuations appear to have peaked in late 2015, he says, and in general should remain stable or decrease "very slightly" this year. An interest rates increase could affect the industry, but less than some other industries, Bissell says.
Long term, seniors housing will benefit from the aging population and will continue to be more resistant to the effects of recession that other asset classes, he says.