December 08, 2016
Report suggests ways to increase staff retention, productivity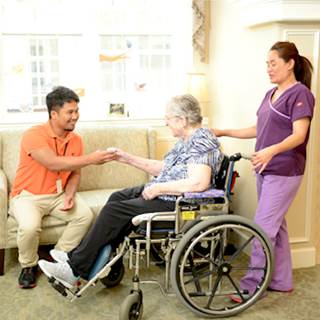 (Photo by John Merkle)
A new report released Thursday by the University of California, San Francisco, Health Workforce Research Center on Long-Term Care shares several steps that senior living organizations can take to try to increase staff retention and productivity, reduce worker burnout and lower employer costs.
Center researchers examined 12 years of data from the Bureau of Labor Statistics' American Time Use Survey to ascertain patterns of work-related and non-work related activities among long-term care workers and compare their use of time with that of workers in other parts of the healthcare industry. The LTC workforce was defined as working in residential facilities, community-based settings and private homes, they said, including workers such as physicians, registered nurses, certified nursing assistants, home health aides, personal care aides and licensed practical/vocational nurses.
Support career advancement. Employers must develop strategies to support career advancement and wage mobility for LTC workers, the authors said. Both skilled and unskilled LTC workers have lower education levels than their counterparts in other healthcare sectors, and they earn lower wages. (Unskilled workers were defined as those whose highest level of education was less than an associate degree and whose hourly wage was less than $21.) Members of the LTC workforce are living in poverty more often compared with those working outside of the industry, according to the report.
Advocate for wellness. Employers could reduce their healthcare spending and increase employee productivity by addressing the sedentary lifestyles common among LTC workers, the authors said, noting that such lifestyles can lead to obesity and hypertension. Although LTC workers spend more time on leisure activities than other workers do, according to the report, much of that time is spent watching TV rather than on activities likely to promote their overall well-being and health, such as exercising and sleeping.
Watch for burnout. Also, the authors said, already strained LTC employees may face increased pressure because they more frequently provide care to older adults outside of work than do others working in healthcare. LTC workers more often provide care to family members or friends several times per month or even daily, according to the research, which suggests that these workers may be providing care both professionally and informally, potentially upping their stress and risk of burnout. This area needs further study, the researchers said.