December 14, 2015
Retirement community adviser pleads guilty to $1.2 million fraud scheme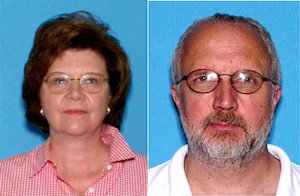 Janet and Richard Fooshee
A former investment adviser to a retirement community has pleaded guilty to organizing a $1.2 million securities and annuities fraud scheme, according to the acting attorney general for New Jersey and the state's Office of the Insurance Fraud Prosecutor.
Janet Fooshee, who also was a fiduciary to several individuals, said she defrauded more than two dozen retirees and others over 10 years beginning in 2003. She admitted to fabricating and mailing more than 100 financial account statements that inflated 14 of her clients' accounts by a combined $818,000 and resulted in at least $17,000 in additional improper fees; stealing about $151,000 from accounts of four clients, including a retirement community; receiving more than $191,539 in unlawful investment adviser fees; defrauding another client out of almost $81,000; and stealing the identities of at least eight corporations by creating letterhead in their names, to convince victims that they were making money on their investments.
Fooshee already was banned from acting as an investment adviser in New Jersey, but she continued in this role to several clients through early 2013, according to the acting attorney general and insurance fraud prosecutor. The clients did not know about the ban.
Fooshee pleaded guilty to 31 of the 37 charges contained in two indictments brought against her in 2012 and 2013. In exchange, prosecutors dismissed some of the charges against her. Fooshee also agreed to pay more than $415,000 in restitution.
Her husband, Richard Fooshee, an attorney, pleaded guilty to second-degree charges of conspiracy, money laundering and securities fraud.
Prosecutors say they plan to recommend a seven-year prison sentence for Fooshee and a non-custodial sentence for her husband. Sentencing is scheduled for January.