July 10, 2016
Salary history questions taboo under bill
California
Employers would be prohibited from asking job applicants about their salary histories under a bill passed by the California Assembly. Assemblymember Nora Campos, a Democrat, said A.B. 1676 would help ensure pay equity.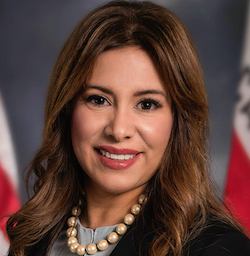 Nationwide, women, on average, earn 79 cents for every dollar made by a man, Campos (pictured) said, citing U.S. Census Bureau data. "The value of each position should be based on its duties, skill, education and experience, not impacted by a person's gender," she said.
The bill now goes to the California Senate. If passed and signed by Gov. Jerry Brown, it could have a big effect on the senior living industry there. California has the third highest number of continuing care retirement communities of all states, according to Ziegler, and has a "significantly higher than national average" number of older residents living in residential care communities, according to the Centers for Disease Control and Prevention.
The American Association of University Women, the California Employment Lawyers Association, California NOW, Equal Rights Advocates and the California Federation of Teachers all support the legislation, Campos said. The California Chamber of Commerce opposes the bill, according to the Los Angeles Times; the group maintains that determining someone's compensation based solely on his or her previous salary already is thought to be a questionable business practice.
Brown, also a Democrat, vetoed an identical bill put forth last year by Campos, according to the newspaper, noting that he had just signed another gender equity bill that requires people who do substantially similar work to receive the same pay. Also, the media outlet said, Brown said he was not convinced that omitting salary history information from compensation decisions would result in pay equity.