March 15, 2016
Senate Judiciary chair asks DOJ to detail elder abuse efforts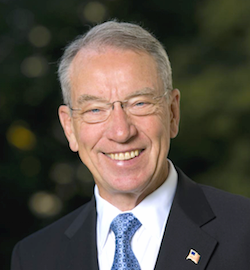 Sen. Charles Grassley
The chairman of the Senate Judiciary Committee has asked the Department of Justice for details on its work to protect senior living residents from being exploited via social media.
In a March 14 letter to Attorney General Loretta Lynch citing an incident that occurred in January in an Illinois assisted living and memory care community, in which a former certified nursing assisted allegedly hired three men to have sex with female residents with dementia while he recorded them, Sen. Charles Grassley (R–IA) asked for information about:
The steps the justice department has taken or intends to take to fight social media-related exploitation of senior living residents and to protect them in general.
The steps the department has taken or intends to take to prosecute individuals who "criminally injure" senior living residents. "In your answer please place special emphasis on social media and electronic abuse," he wrote.
The number of criminal and civil cases related to abuse of senior living residents, in particular cases involving the use of social media and electronic abuse, in the past five years, by state.
The resolution of the criminal and civil cases referred to in the previous bullet point.
The number of ongoing senior living community abuse investigations, with particular attention to cases involving the use of social media and electronic abuse, by state.
"Although many offenders have been fired and prosecuted by state authorities, there may be many more unreported incidents of abuse. ...It is unclear what is being done to ensure that these consequences are avoided," he wrote. "But, what is clear is that the federal government must use all the tools at its disposal to protect the elderly in this country. For example, if the Department of Justice (DOJ) is cooperating with states and local governments, this Committee would appreciate an update with respect to the Department's ongoing role in that regard."
Although Grassley began his letter describing the incident in the assisted living and memory care community, his requests for information from Lynch referenced only nursing homes. His communications manager, Jill Gerber, told McKnight's Senior Living that she was not certain whether the justice department would limit its reply to nursing home cases. Grassley's office may specifically request that the department include in its reply other senior living settings, such as assisted living and memory care communities, she added.
Grassley sent his letter to the justice department just 10 days after Sen. Tom Carper (D-DE) sent a letter to the Department of Health and Human Services Office for Civil Rights asking what the department is doing to curb nursing home workers' abuse of social media. He requested a response by March 18.
Dec. 23, Sen. Joe Donnelly (D-IN) also asked the Senate Special Committee on Aging, of which he is a member, to investigate the issue.