February 02, 2018
Senators ask president for more Alzheimer's funding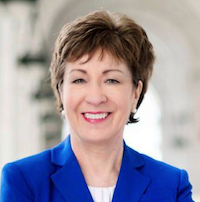 Sen. Susan Collins
A group of 14 senators led by Sen. Susan Collins (R-ME), founder and co-chair of the Senate Alzheimer's Task Force, and Sen. Amy Klobuchar (D-MN) on Wednesday asked President Trump to boost funding allocated for Alzheimer's research in the fiscal year 2019 budget request he is expected to release later this month.
"Alzheimer's is one of our nation's leading causes of death, and it is the only one of our nation's deadliest diseases without an effective means of prevention, treatment or cure," the senators wrote in a letter. "If nothing is done to change the trajectory of Alzheimer's, the number of Americans afflicted with the disease is expected to more than triple by 2050," costing the country up to $1.1 trillion, they added.
A panel of experts convened under the National Alzheimer's Project Act, which Collins authored in 2011 with then-Sen. Evan Bayh (D-IN), determined that annual research funding of $2 billion was needed to achieve the goal of preventing and treating Alzheimer's by 2025. The proposed Senate funding bill for FY18 calls for $1.8 billion in funding for Alzheimer's research, an increase of $414 million, the senators said. That bill has not passed yet, however; instead, legislators have been passing short-term funding measures.
Additional senators signing Wednesday's letter were Richard Blumenthal (D-CT), John Boozman (R-AR), Bob Casey (D-PA), John Hoeven (R-ND), Angus King (I-ME), Thom Tillis (R-NC), Ed Markey (D-MA), Chris Van Hollen (D-MD), Mark Warner (D-VA), Sheldon Whitehouse (D-RI), Roger Wicker (R-MS) and Todd Young (R-IN).