December 11, 2016
Senior living bus driver charged with manslaughter in death of resident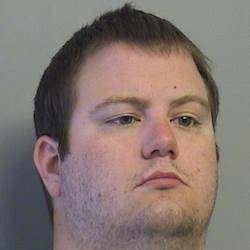 Johnathan Patrick Kendrick (Photo: Tulsa County Jail)
The driver of a senior living community bus on which a resident was found dead in August turned himself in on a felony charge of second-degree manslaughter on Friday.
Johnathan Patrick Kendrick, 25, a former employee of Brookdale Tulsa Midtown in Oklahoma, had been charged on Tuesday, according to Tulsa County District Court documents. He paid a $5,000 surety bond and was released on the same day that he turned himself in.
The body of resident Mary Schlecht, 84, was found on her community's travel bus on Aug. 28, the day after she went on an outing with fellow residents. She died of complications of hyperthermia, Medical Examiner Joshua Lanter, M.D., of the Oklahoma Office of the Chief Medical Examiner ruled in November. Temperatures on Aug. 27 and Aug. 28 reached the mid-90s, Lanter wrote in the report, and the temperature of Schlecht's body, when found, was 102 to 104 degrees. The examination revealed signs of dehydration, he added.
Lanter classified the death as an accident. The December court documents, signed by District Attorney Steve Kunzweiler, maintain that Kendrick is culpably negligent for leaving Schlecht on the bus.
"This is a sad situation, and we continue to extend condolences to our resident's family," a Brookdale Senior Living spokeswoman told McKnight's Senior Living. "This incident has affected everyone at Brookdale. We continue to cooperate with all parties involved and provide support in the best way we can."
Schlecht's daughter, Linda Williams, filed a lawsuit against Brookdale Senior Living and others in October, asking for actual and punitive damages. She alleges that Kendrick, identified as "John Hendricks" in the lawsuit, was allowed to drive the community's bus despite not having a commercial driver's license or the training required by regulations, that the community did not have medically trained staff members on the bus for residents who might need care and that the community did not train employees on how to account for residents with disabilities. Schlecht had dementia and other medical conditions, according to the medical examiner's report.
In addition to the parent company and Kendrick, the lawsuit names Brookdale Tulsa Midtown, Emeritus Corp. and outing planner Amanda Hollinger-Steward.