February 11, 2016
Senior living communities celebrate love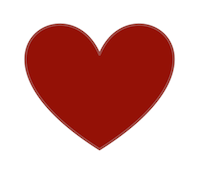 Senior living communities celebrate love
As Valentine's Day approaches, senior living communities and their residents and staff members are celebrating love in several ways. Here are a few stories that may warm your heart.
💗💗💗
It was Valentine's Day that brought together Vivian Stoner and John Fracasse three years ago, when Stoner asked Fracasse if he would like to accompany her to a dance, and he accepted.
After that event, the two residents of the continuing care retirement community Woodland Pond at New Paltz, NY, learned that not only did they have a mutual love of dancing; they also had other interests in common, such as traveling, camping and country music. "Our relationship grew from there," Stoner said.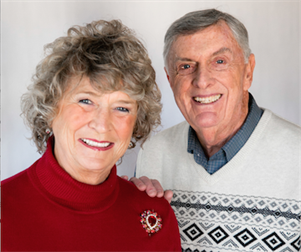 The two, who did not expect to date in retirement, now are considered an "item" at the senior living community and have led the way in encouraging other seniors to date — people who originally may have believed that they were too old.
"Vivian and John are the perfect example of how you can find happiness at any point in your life," said Michelle Gramoglia, executive director of Woodland Pond at New Paltz. "They are an inspiration to us all, because they don't hold back, and they don't let what others think get in the way of their happiness. I'm tickled that they hit it off at one of the community's Valentine's Day dances. That means a lot to the staff who plan these events in the hope that residents will get to know each other more, build lasting friendships and even relationships down the road."
💗💗💗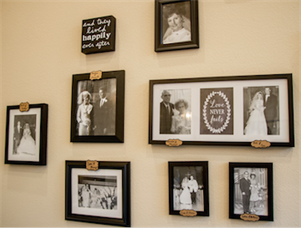 With Valentine's Day approaching, US Memory Care of North Dallas has installed a "wedding wall" to showcase the wedding photos of residents. The display, which will be a permanent and growing collection, is prompting memories for residents and helping families connect with their loved one during visits.
The wall was inspired by Chief Operating Officer Tami Cumings, who recognized that resident-staff engagement often begins with a conversation about a photograph in a resident's room and that finding things to talk about can be difficult for families visiting a loved one with Alzheimer's disease. Megan Rowe, life experiences director, took the lead in putting the wall together and has enjoyed the early reactions from residents and families. She has seen visiting spouses bring their sweethearts to the wall and has heard sons and daughters commenting on how their parents looked as teenagers or in their early 20s and asking questions about what life was like at that time.
US Memory Care expects to roll out the concept of the wedding wall to other communities in the next few months.
💗💗💗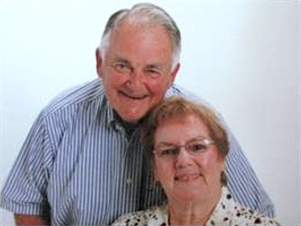 Anticipating their first wedding anniversary are Wes and Rose Kriebel, who moved to Ashby Ponds, Ashburn, VA, in April 2015 and were married 11 days later on campus at the Erickson Living CCRC's chapel. They welcomed about 45 members of their immediate families for the ceremony and followed the occasion with a reception at the community's Windows Restaurant.
The Kriebels met during a bridge club event in State College, PA, more than four decades ago. Wes and Rose's husband both were faculty members at Pennsylvania State University at the time. The careers took them to different parts of the country. Wes and his wife were married for 60 years, and Rose and her husband were married for 39 years.
One day, Wes began to search through his sympathy cards and came across a note from Rose, which launched their reconnection. In August 2014, he offered to dog-sit at his son's farm in Pennsylvania; during that week, he invited Rose to the first of many lunches.
After eight months, the two decided not only to get married, but to find a home together where they could enjoy a new life and retirement years. Both sold their homes, and the scene was set for Ashby Ponds, an ideal location given that each had children nearby. Together, Wes and Rose have seven children and 15 grandchildren.
Music is one of their common interests. Rose has enjoyed Ashby Ponds' Songbirds choral group and plays for the community's interfaith church services. Wes currently is rehearsing with other men at Ashby Ponds to form a vocal group at the community. Again this year, Wes will be performing "Singing Valentines" with his barbershop quartet; like singing telegrams, the performances serve as a fundraiser for local charities.
In celebration of their first Valentine's Day as man and wife, Wes and Rose are traveling via Amtrak Auto Train to Sarasota, FL. There, they will spend six weeks taking in a baseball spring training game, visiting Disney World, visiting friends and catching up with relatives.
💗💗💗
Residents on the fourth floor of the St. Charles residential building of Charlestown, an Erickson Living CCRC in Catonsville, MD, have organized a "Love Hall." There, they display vintage photos of weddings, anniversaries, cruises and other events that bring fond memories.
💗💗💗
More news — Valentine's edition: Here are links to some additional sweet stories from around the country:
💗 Wedding held at Danberry at Inverness, Hoover, AL
💗 Couple first to marry at Samaritan Gardens, Tupelo, MS
💗 Teens, seniors mix at Valentine's dance at Cache Valley Assisted Living, Providence, UT