July 14, 2016
Senior living community helps teach future physicians, learn from caregivers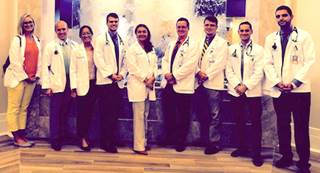 Mariana Dangiolo, M.D., center, poses with UCF medical students at Watercrest of Lake Nona.
Watercrest of Lake Nona is partnering with the University of Central Florida to help address two issues associated with the United States' expanding aging population: The lack of geriatricians to provide medical care for Americans aged 65 or more years, and the strain that family caregivers face when caring for a loved one who has dementia.
Through the UCF College of Medicine's Bridging the Gap initiative, residents of the Vero Beach, FL, assisted living and memory care community, which has 80 units, will receive geriatric assessments and third-year medical students will obtain experience caring for older adults. A pair of medical students will make monthly visits to the apartments of residents who have volunteered for the program. During the visits, students will complete comprehensive geriatric assessments, depression and cognitive assessments, medication reviews and falls and safety reviews.
Mariana Dangiolo, M.D., the school's director of geriatrics and palliative care and leader of the program, will meet with students during their assignments, hearing oral case reports and providing feedback on the management of residents' care and program objectives. The students won't necessarily go on to become geriatricians, but they will gain exposure to the medical specialty and learn how to care for members of the aging population.
Community residents will benefit beyond receiving the medical assessments, said Christopher S. Shepherd, vice president of creative program development for Watercrest Senior Living Group.
"UCF College of Medicine's Bridging the Gap program gives our residents the unique privilege of interacting with the next generation of doctors and shaping the future of medical care," he said.
Approximately 20,000 geriatricians are needed now to care for more than 14 million older Americans, according to the American Geriatrics Society. Citing 2014 data, the society said that 7,423 geriatricians are certified nationwide.
Dementia project
The senior living community and UCF also are partnering on a new research project that will convene groups of people who currently or previously have cared for people with dementia who displayed aggressive behaviors in their homes.
The Learning from Caregivers Project, sponsored by UCF and led by Tracy Wharton, Ph.D., LCSW, a social work faculty member at UCF, will study the early experiences of behavior development, ways to identify behaviors before crisis, and how to provide additional services to family members who may be overwhelmed by their experiences.
"UCF believes this study can make a difference in the lives of those experiencing Alzheimer's-related dementias," Shepherd said. "Few interventions have targeted caregivers experiencing aggressive behaviors and enabled the connection of caregivers to research."
According to the Alzheimer's Association, 15.9 million family and friends provided 18.1 billion hours of unpaid care to those with Alzheimer's and other dementias in 2015. Approximately 5.4 million Americans have Alzheimer's disease, according to the association, and the number is growing.