January 22, 2017
Senior living construction costs continue to rise due to labor shortage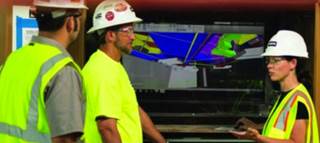 (Detail of Weitz/ASHA graphic)
A labor shortage in the construction industry is one of the driving factors behind continued inflation for senior living construction projects in every region of the country, according to a new brief prepared for the American Seniors Housing Association by The Weitz Co.
"Various sources now indicate 70% to 80% of contractors have difficulty finding qualified labor to support construction projects," wrote Larry Graeve, senior vice president of the national construction firm. Subcontractors are trying to attract workers through pay incentives and are adding contingency dollars to projects in order to cover potential overtime pay needs, he added.
"Although some anticipate modest inflation in 2017, these estimates are often based on commodity pricing and standard labor increases and may not account for other factors such as labor risk," Graeve said. Weitz predicts an inflation rate of 5% to 6% for senior living construction projects over the next 12 months.
The per-gross-square-foot cost of construction in January in independent living ranged from $130 to $221, according to the report, and costs in assisted living ranged from $158 to $299. See the graphic below for additional information.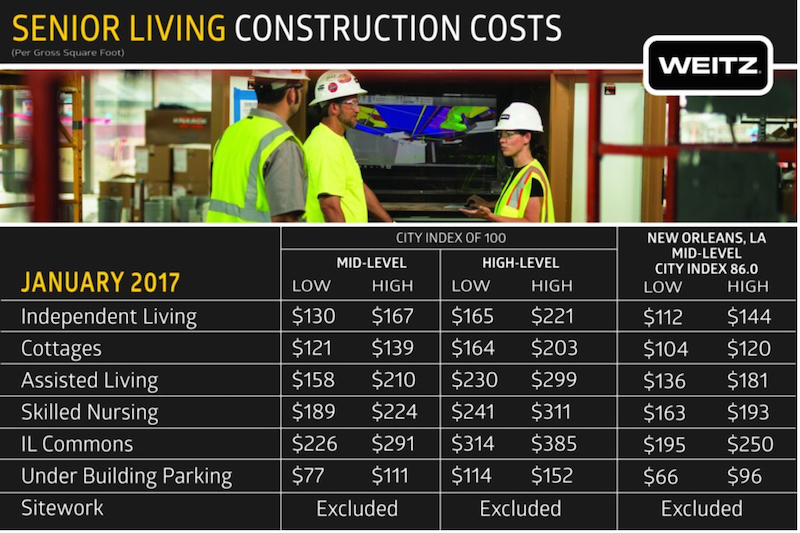 Additional information from Weitz:
Costs shared in the table are full burden and include general conditions, insurance, tax, bond and fee, but they exclude site construction costs. Costs are based on a city index of 100, and each city has a different index. For example, New Orleans has an index of 86, which translates to a cost range of $112 to $144 per square foot for independent living, whereas Chicago has an index of 119.9, which translates to a cost range of $156 to $200 per square foot for independent living. Those indices, coupled with local market conditions, are essential when comparing overall pricing.
Mid-level projects generally are wood-framed and have standard amenities and finishes. Typically, they target older adults with moderate incomes.
High-level projects generally are of steel or concrete construction and have high-end finishes and luxury amenities. They typically target older adults with higher incomes.