April 25, 2017
Senior living cost growth may surprise potential residents — in a good way
Growth in costs for assisted living and memory care probably runs counter to what most people think, according to a report released Tuesday by senior living referral service A Place for Mom.
"While public perception is that healthcare costs are increasing at breakneck speed, our research finds that assisted living and memory care costs for consumers are growing slowly, at 2.9 and 2.3 percent per year, respectively, in 2016," said Charlie Severn, vice president of brand marketing at the company. "That amounts to about $110 per month in both cases."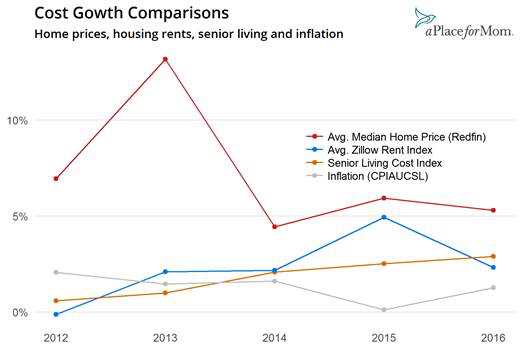 Senior living costs more broadly are growing at rates similar to housing rents, more slowly than health insurance premiums and hospital service costs, and much more slowly than recent home sale price growth, according to the company's 2017 National Senior Living Cost Index.
That home sale price growth, by the way, may be good news for senior living providers, Severn said.
"Many of these folks have significant equity in their homes, and at some point, plan to sell them as a source of funding to pay for senior housing and independent living, assisted living or memory care." he said.
Costs for assisted living and memory care have increased about 2% per year, or approximately $62 per month, on average, since 2012, A Place for Mom found. Adjusting for inflation, costs have increased just less than 1% annually, or approximately $19 per month in 2016 dollars, on average, since 2012.
Other highlights of the report:
Independent living, the type of care most similar to rental and real estate markets because all costs are rent-related, showed the fastest acceleration in cost growth compared with assisted living and memory care, the costs of which are a mixture of rent and care.
Cost growth in senior living is more similar to the rental market than the residential real estate market. National annual rent growth was 2 to 5% from 2013 to 2016, according to the Zillow Rent Index, which was similar to growth in senior living costs. National home sale prices, however, have grown at least twice as fast, according to real estate brokerage Redfin.
Cost growth slowed in the South but sped up everywhere else in 2016.
Cities with hot rental markets also tend to have the fastest-growing senior living costs. In 2016, the top five metropolitan areas in terms of average monthly Zillow Rent Index were Seattle; Portland, OR; Sacramento, CA; Denver; and San Diego. All but Portland are on the top-five list for the fastest-growing costs for at least one of the major types of senior housing and care. (See A Place for Mom's interactive map of senior living costs in more than 2,000 cities, metropolitan areas and states across the United States for more information.)
The Senior Living Cost Index is based on actual rent and care charges collected from referred family move-ins to communities that use A Place for Mom's services.