July 26, 2016
Senior living organization, nursing school collaboration 'breaks new ground'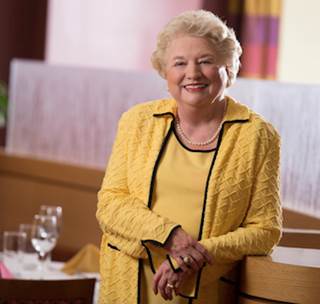 Charlene Phelps poses at Judson's South Franklin Circle retirement community in Chagrin Falls, OH.
A new collaboration between a senior living organization and a nursing school aims to improve the health of older adults, educate students about the elderly, and conduct research to benefit other retirement communities and educational programs focusing on issues related to aging.
And the initiative is being launched with a $1.2 million donation from an alumna of the nursing school who lives at one of the senior living organization's communities.
The gift from Charlene Phelps will create the Phelps Collaborative for Older Adult and Family Engagement, a program of Cleveland-based not-for-profit Judson Services and the Frances Payne Bolton School of Nursing at Case Western Reserve University, also in Cleveland. The heart of the effort will be a to-be-named faculty member at the nursing school who also will hold a clinical appointment at Judson.
"This collaboration breaks new ground for a retirement community," said Judson President and CEO Cynthia H. Dunn.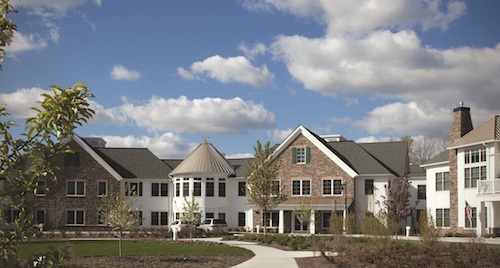 The faculty member selected via a national search will divide his or her time between teaching nursing students about health and aging issues and interacting and learning more about older adults and their families at Judson's three communities: Judson Park and Judson Manor, known collectively as Judson at University Circle, in Cleveland, and South Franklin Circle in Chagrin Falls (pictured), where Phelps lives. Collectively, the campuses offer independent living, assisted living, memory support services, long-term nursing care and short-term rehabilitation. Judson also offers home health services.
"The position will collaborate directly with the resident health promotion committee and work alongside the fitness/wellness team and with our nurse coordinators in evaluating and educating on chronic disease management and acute episodes," Dunn told McKnight's Senior Living. "This new model of partnership works directly with our residents and families in making informed decisions."
The faculty member will spend time in Judson clinics, observing and rounding on all campuses and with members of the Judson at Home program in the greater community, Dunn added.
"We plan to eliminate a level-of-care approach and replace it with connecting, coordinating, educating and engaging our residents and their families in full menu of options that give them opportunities to choose which programs and services support their health and well-being goals," she said.
Research is part of the plan
The faculty member also will study how older adults and their families manage health and wellness and how quality of life might be improved at a lower cost to all.
"The research will help measure the impact of educating the residents and families on chronic disease management, managing acute episodes and the impact of informed decisions in their quality of life and the impact on cost of care," Dunn said. "It will provide resources to educate the consumer to make healthy lifestyle choices. They are an invested participant in the outcome. In the long term, this will translate into quality of life and controlling healthcare costs and making informed decisions."
Findings could be used by other senior living communities that are interested in healthful aging as well as by college and university programs that focus on issues in aging, she added.
"Judson can serve as a microcosm for implementing a new model of person-directed support based on coordinating the educational, clinical, administrative and research components built around community nursing," Dunn said.
Future could include expansion
Judson and the nursing school plan to expand the program in the future.
"My vision is that we can grow this initiative in the future to provide the opportunity for research and education at multiple levels — in the classroom, in the field with older adults and also for their families," Phelps said. "We want to listen to them, study them and gain their ideas. We seek to develop better ways to help older adults and families make good healthcare decisions. This will both lower costs and help that population to function better and live longer."
Phelps earned her master of science in nursing degree at the nursing school in 1965. She worked for the University Hospitals Health System in Cleveland for more than 30 years, retiring in 2003 as senior vice president of nursing. Phelps also held faculty positions at the nursing school from 1971 until her retirement​.
A longtime volunteer at her alma mater, Phelps has served as chairwoman of the visiting committee (an advisory committee to the dean of the nursing school) and is the former chairwoman of the campaign committee that helped raise funds for student scholarships and general support for nursing education.
She also served on the Judson Services board for several years and moved to Judson's South Franklin Circle community in 2010.