August 14, 2016
Seniors housing construction costs escalating: brief

(Detail of Weitz/ASHA graphic)
The tight labor market for skilled labor and trades in the construction industry is becoming a top issue in several markets, resulting in higher-than-expected cost escalation for current seniors housing projects, especially those that are near the beginning of the process, according to a new issue brief from the American Senior Housing Association and national construction firm The Weitz Co.
And the trend could continue for the next nine to 12 months, the organizations said.
Construction companies are finding it difficult to prevent good employees from quitting to join competing firms, according to the publication. The problem, the brief noted, is exacerbated by the fact that the number of new workers entering the trades is not keeping pace with the number of workers who are advancing through the ranks or leaving the trades.
"The overall impact is not only cost but a real potential for a slowing of schedules and firms trying to do more with less," the organizations stated.
The per-gross-square-foot cost of construction in summer 2016 in independent living ranged from $128 to $218, according to the report, and costs in assisted living ranged from $156 to $296. See the graphic below for additional information.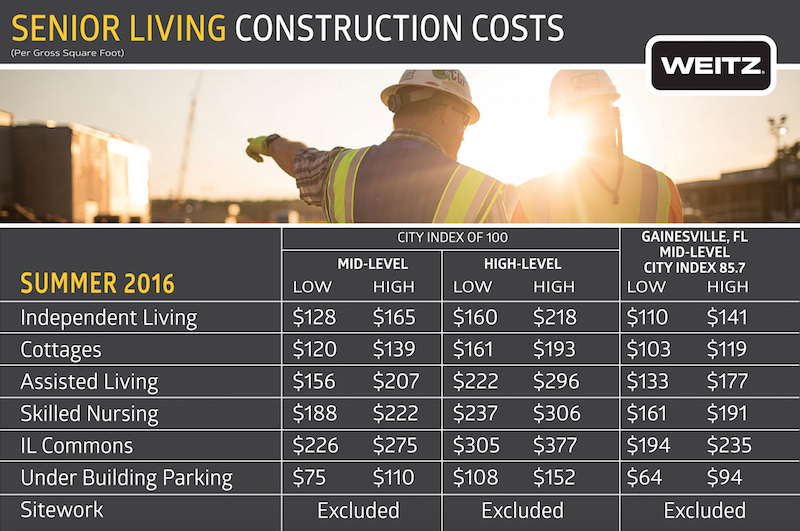 Cost trends from 2004 to 2016
ASHA and Weitz also have released an issue brief about seniors housing construction cost trends from 2004 to 2016, including the effects of the recession.
Through the mid-2000s, according to the brief, the market experienced higher-than-normal levels of construction-related inflation. The construction market was not insulated from the financial crisis that began in 2008, which saw markets falter and major financial institutions collapse, the report noted. Several construction companies went out of business, whereas others reduced their size.
"General contractors, subcontractors, designers and engineering firms were all affected," according to the organizations. "The market as a whole experienced several years of declining prices through the end of 2010 before beginning to climb out of the trough."
Construction costs have returned to pre-recession levels, according to ASHA and Weitz, with moderate to high inflation over the past five years. "The current pace of construction, including increasing labor rates, leads us to expect this trend to continue in the near term," they said.
See the graphic below for additional information.