June 26, 2016
Seniors housing good investment: report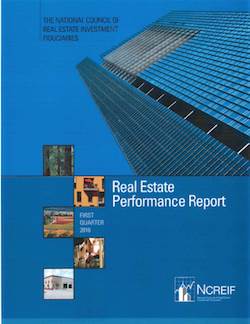 Seniors housing good investment: report
Seniors housing proved to be a good investment in the first quarter of this year, according to data reported to the National Council of Real Estate Investment Fiduciaries by investment managers who own or manage seniors housing properties in fiduciary settings.
Total returns were 3.23%, including a capital return of 1.8% and an income return of 1.43%, wrote Beth Burnham Mace, chief economist and director of capital markets outreach for the National Investment Center for Seniors Housing and Care, in NCREIF's "Real Estate Performance Report" for the first quarter.
The annual total return through the first quarter was 14.52%, which Mace described as "impressive," and yet the total annual return for seniors housing has been trending downward since mid-2014. At that time, it was 20.4%.
The annual income return in seniors housing also has been slowing, matching a trend seen in the overall NCREIF Property Index, Mace said. At 5.75% in the first quarter, it was the lowest for any trailing fourth-quarter period in more than 10 years.
On a 10-year basis, total returns for seniors housing exceeded both the NPI and apartments by more than 400 basis points, Mace said.
Download the report here.