December 06, 2016
Social engagement helps slow cognitive decline: study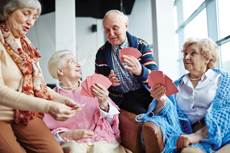 Social engagement helps slow cognitive decline: study
Here's yet another reason for senior living organizations to tout the social interaction they provide: such activities may help delay the onset of cognitive decline.
Researchers at the University of Southampton found that recreational, social and leisure activities — along with voluntary and group work — all are linked with higher levels of well-being and lower mental stress.
"The implication is that if people continue to engage socially throughout life, maintaining related behaviors that require cognitive skills such as memory, attention and control, there may be some protection from cognitive decline," said Ann Bowling, Ph.D., the study's lead author.
What makes this study stand out from previous work is that it is longitudinal in nature. Investigators followed more than 9,000 men and women throughout their lives. By taking this long view, they gained a more robust picture of how socialization helps inoculate older people against mental decline. Full findings appear in the open access journal BMC Psychology.