September 02, 2015
State-specific guides address money management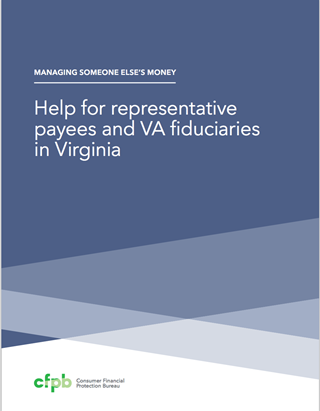 One of the state-specific publications issued by the Consumer Financial Protection Bureau.
The federal Consumer Financial Protection Bureau has begun issuing state-specific guides for those who manage other people's finances. The first ones to be released pertain to Virginia.
The state-specific "Managing Someone Else's Money" guides are designed to "help further educate and empower consumers and their caregivers to make informed financial decisions to protect their loved ones," CFPB Director Richard Cordray said recently when announcing them at an event in Virginia.
The CFPB plans to issue state-specific guides in a total of six states with large populations of older adults. In addition to Virginia, tailored guides will be produced for these states by the end of 2016: Arizona, Florida, Georgia, Illinois and Oregon. The CFPB is planning to provide tips and templates to the remaining 44 states to help them adapt the guides for their states.
The new publications expand on information in the general "Managing Someone Else's Money" guides already available from the CFPB. Cordray said that 600,000 printed copies of the general guides have been distributed in the past two years. "But because people's powers and duties as a fiduciary vary from state to state, we have learned that more was needed than a one-size-fits-all guide," he added.
The general and state-specific guides are written for four types of fiduciaries:
People who are granted power of attorney to make decisions about money and property for a loved one.

Those appointed by a court as guardians or conservators of property.

People who have been named as trustees under revocable living trusts.

Those appointed by a government agency to manage someone else's income benefits, such as Social Security or veterans benefits.
The guides are available at no charge via download on the CFPB website (click on the title of the publication you would like), and bulk print copies also may be ordered online.
The CFPB also produces "Protecting residents from financial exploitation: A manual for assisted living and nursing facilities," which may be downloaded at the aforementioned link.