April 26, 2016
Strength training can reduce mortality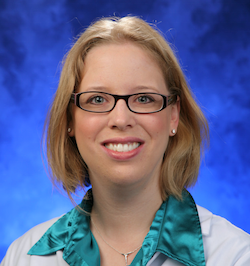 Jennifer Kraschnewski, M.D., M.P.H.
Are their weights in your fitness areas? Do your workout offerings include resistance exercises?
Older adults who participate in strength training twice a week lower their odds of dying compared with those who do not, and they even see benefits compared with those who participate in regular physical activity, according to research published in the June issue of Preventive Medicine.
The minimum frequency of twice a week is based on a joint guideline for adults issued in 2007 by the American College of Sports Medicine and the American Heart Association. "Muscle-strengthening activities include a progressive weight-training program, weight bearing calisthenics, stair climbing, and similar resistance exercises that use the major muscle groups," according to the guideline.
In the study published in Preventive Medicine, Jennifer L. Kraschnewski, M.D., M.P.H., and coauthors looked at data on 30,000 adults aged 65 or more years who were part of the 1997-2001 National Health Interview Survey. They followed the respondents for 15 years through death certificate data from the National Center for Health Statistics National Death Index. About one-third of respondents had died by 2011.
During the survey period, more than 9% of older adults reported strength training at least twice a week.
"We need to identify more ways that we can help get people engaged in strength training so we can increase the number from just under 10% to a much higher percentage of our older adults who are engaged in these activities," said Kraschnewski, assistant professor of medicine and public health sciences at Penn State College of Medicine.
Her enthusiasm stems from the finding that the older adults who strength-trained at least twice a week had 46% lower odds of death — for any reason — than those who did not. They also had 41% lower odds of cardiac death and 19% lower odds of dying from cancer.
Even when the researchers adjusted for demographic variables, health behaviors and health conditions, they still saw a statistically significant effect on mortality, although the effects on cardiac and cancer mortality were still present but no longer were statistically significant. And after the researchers controlled for physical activity level, those who had reported engaging in strength exercises appeared to see a greater mortality benefit than those who reported physical activity alone.