January 31, 2018
Task force calls for big changes in assisted living, dementia care by 2020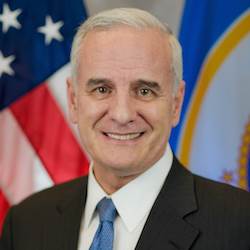 "We must and will do more to protect the health, safety and dignity of all our state's senior citizens," Minnesota Gov. Mark Dayton said.
Minnesota will have a new assisted living license and new dementia care certification in less than two years if Gov. Mark Dayton and state lawmakers follow the recommendations contained in a new report from a task force appointed by the governor to address concerns related to elder abuse.
The 58-page document, released Monday, calls for the state health commissioner to create a new assisted living license, with "significant consumer input," to combine housing and home care services under one license structure instead of the current two. Under the recommendation, the license would be developed during this year's legislative session and implemented by Jan. 1, 2020.
As part of the assisted living licensure development process, the health commissioner also would create a new dementia care certification under the recommendations. "The goal of the certification is to identify minimum safety and quality of service standards for dementia special care, including dementia training, assessment, care planning, therapeutic activities and physical design/environment," according to the report authors.
Dayton, a Democrat, said in a statement that he will "closely review this report and work with senior advocates, providers and legislators to implement its recommendations in the upcoming session. We must and will do more to protect the health, safety and dignity of all our state's senior citizens."
Suggestions also address staffing levels based on resident acuity, the use of cameras in residential care settings, "misleading" marketing practices, earlier public access to reports of abuse allegations and other issues.
The governor announced plans for the task force in November after the Minneapolis Star Tribune published a five-part series about elder abuse. The newspaper reported that the state Department of Health investigated only 3% of the 25,000 reports of alleged incidents of physical or financial abuse, neglect or injury in licensed assisted living communities, memory care communities and nursing homes that it had received in 2016. The series put assisted living communities on the proverbial hot seat, because the number of assisted living residents in Minnesota has doubled to 60,000 in the past decade, whereas the number of nursing home residents has decreased to fewer than 30,000.
The new report also has suggestions that would affect nursing homes in the state.
Devising the recommendations released Monday were representatives for AARP Minnesota, the Alzheimer's Association, the Minnesota Elder Justice Center, Elder Voice Family Advocates and Mid-Minnesota Legal Aid. AARP Minnesota said the process also included feedback from victims, family members, providers, direct care worker and advocates and others who responded to a request for input.
The entire report is available online as a PDF.
Tuesday, Dayton announced the appointment of Jan Malcolm as health commissioner for the Minnesota Department of Health. Malcolm, who held the position from 1999 to 2003, replaces Ed Ehlinger, M.D., MSPH, who resigned in December.
The new health commissioner said that addressing allegations of elder abuse will be among her top priorities. She also said she will work with the state Department of Human Services to eliminate an existing backlog of elder abuse reports.