July 10, 2017
Thursday is deadline for comments on OSHA data submission delay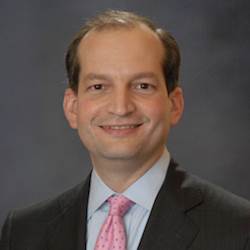 Secretary of Labor R. Alexander Acosta was sworn on April 28. OSHA is part of the Labor Department.
Thursday is the deadline for comments to be sent to the Occupational Safety and Health Administration about its proposal to delay a 2016 final rule that requires employers to electronically submit summary data related to workplace injuries and illnesses.
Originally, submissions were to begin July 1, but in May, the agency announced that it would be extending the deadline to an unspecified date. June 28, OSHA announced in the Federal Register that the new proposed deadline is Dec. 1.
Under the final rule, "high-hazard" industries that have 250 or more employees are required to electronically submit to OSHA the injury and illness information that they already collect on OSHA Forms 300, 300A and 301 every year. Additional businesses may be required to submit the forms as well, if they are notified by OSHA to do so.
The proposed delay would apply only to Form 300A.
Some businesses with 20 to 249 employees are required to electronically submit information from Form 300A only. Among those affected industries identified in Appendix A to Subpart E of Part 1904 of the rule are community care facilities for the elderly (NAICS 6233), other residential care facilities (NAICS 6239) and nursing care facilities (NAICS 6231).
When the rule was announced in 2016 during the Obama administration, OSHA said it planned to post the injury and illness information on its website, with all personally identifiable information removed, to " 'nudge' employers to prevent worker injuries and illnesses to demonstrate to investors, job seekers, customers and the public that they operate safe and well-managed facilities."
The agency also said it would use the data to target compliance assistance and enforcement resources at establishments where workers are at greatest risk.
For instructions on how to comment, see the posting in the Federal Register.