August 31, 2015
Top 10 contributors to health loss in U.S.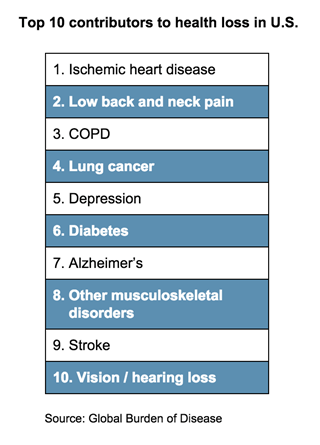 Top 10 contributors to health loss
Although life expectancy in the United States is increasing, Americans are living more years with illness and disability, according to a new analysis. That's because the increase in healthy life expectancy in the United States has not been as dramatic as the growth of life expectancy in general.
Healthy life expectancy considers not just mortality but also the effect of nonfatal conditions. It also summarizes years lived with disability and years lost due to premature mortality.

"The fact that life expectancy has increased for people in the United States is encouraging," says Theo Vos, MD, PhD, of the Institute for Health Metrics and Evaluation at the University of Washington in Seattle. He was the lead author of the Global Burden of Disease study, published in The Lancet. "But to get a true picture of health in the United States, we also have to look at the conditions that make a growing contribution to health loss," Vos adds.
Among men and women the United States in 2013, the most recent year measured in the study, those conditions were:
ischemic heart disease (IHD),

low back and neck pain,

chronic obstructive pulmonary disease (COPD),

tracheal, bronchus and lung cancer,

depressive disorders,

diabetes,

Alzheimer's disease and other dementias,

other musculoskeletal disorders,

stroke, and

sense organ diseases such as vision and hearing loss.
Lung cancer, depression, diabetes and Alzheimer's disease were not among the leading causes of health loss globally, researchers found.
Health loss causes differed by gender. For American men, the top five conditions in 2013 were IHD, low back and neck pain, COPD, lung cancer and diabetes. For women, the top five were low back and neck pain, IHD, depressive disorders, COPD and other musculoskeletal disorders.