February 08, 2016
Top 15 cities for bed bugs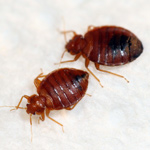 Bed bugs (Photo courtesy of Terminix)
Now here's a list you don't want your city to be on. Detroit tops the list of bed bug-infested cities, according to a recently released ranking by Terminix. The 2016 list marks the first time in four years that Philadelphia is not in the top spot.
This year's list:
Detroit
Philadelphia
Cleveland-Akron
Los Angeles
Dayton, OH
Chicago
Columbus, OH
Cincinnati
Dallas-Forth Worth
San Francisco-Oakland-San Jose
Denver
Toledo, OH
Oklahoma City
Baltimore
New York City
Bed bugs flourish in mattresses, box springs and bed frames, according to Terminix, so it may not come as a surprise that nursing homes and other residential care settings are the third most common place for infestations, accounting for 9% of them (topping that list are retail stores at 37%, followed by hospitals and doctors' offices at 12%; casinos follow nursing homes and other residential care settings, with 5% of infestations).