November 06, 2016
Trial date set in $1 billion healthcare fraud case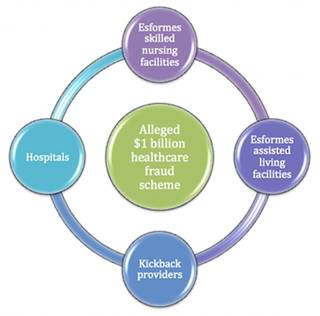 Trial date set in $1 billion healthcare fraud case
A Sept. 18, 2017, trial date has been set for Philip Esformes, the owner of several Florida assisted living and skilled nursing facilities who was accused earlier this year of leading a $1 billion fraud scheme. A federal judge in the U.S. District Court for the Southern District of Florida set the date on Wednesday.
As McKnight's Senior Living reported in late July, Esformes was among those charged with conspiracy, obstruction, money laundering and healthcare fraud in connection with actions that government officials called "the largest single criminal healthcare fraud case ever brought against individuals by the Department of Justice."
When residents of Esformes' SNFs would near or arrive at the end of Medicare's 100-day post-hospital benefit period for skilled nursing, they would be moved to his ALFs, according to a motion to detain Esformes pending trial filed by the federal government. "After the required 60-day waiting period between consecutive admissions to an [sic] SNF, a physician or physician assistant would readmit the beneficiary to the hospital, re-initiating the cycle," the document said.
Meanwhile, according to the motion, Esformes provided access to assisted living residents "for any healthcare provider willing to pay a kickback," including pharmacies, home health agencies, physician groups, therapy companies, partial hospitalization programs, laboratories and diagnostic companies. "Many of these services, however, were not medically necessary or were never provided," the court document stated.
So that they would be hidden from law enforcement, the kickbacks often were paid in cash or were disguised as payments to charitable donations, payments for services and sham lease payments, the government alleged.
The motion to detain pointed out that although the Medicare program does not directly reimburse ALFs for the care and services they provide, the program does pay physicians, home health agencies, pharmacies and other providers for services they deliver to ALF residents. Also, the motion noted, the Medicaid program pays for some assisted living expenses that some residents incur.
"Mr. Esformes stands by his lifelong record of hard work and success, of providing quality service to people in his nursing homes, and of helping persons in need," his attorney, Michael Pasano, previously told the Chicago Tribune. "He adamantly denies any wrongdoing and promises to fight vigorously to show the truth behind the lies being brought against him."
Sept. 28, Miami U.S. District Judge Joan A. Lenard ruled that Esformes continue to be held in the Miami Federal Detention Center without bond.