May 18, 2017
Vandals destroy $11,000 worth of trees at senior community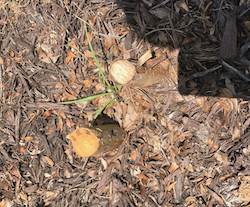 What's left of the trees that vandals cut down at Mirabella Florida.
The developers of a 55+ active adult community in Florida are offering a $1,000 reward for information related to the destruction of more than $11,000 worth of trees on the property.
Vandals reportedly cut down 77 trees that were planted as part of Mirabella Florida's eco-friendly approach and energy-saving efforts. The Bradenton, FL, community has been deemed platinum-level LEED (Leadership in Energy and Environmental Design) certified by the U.S. Green Building Council, is certified by Energy Star and earned a 62 to 64 (depending on residence) on the Residential Energy Services Network HERS (home energy rating system) index.
"We've designed and built a safe, modern and dynamic residential community that is the most environmentally friendly one in the region, so the shock and dismay we all felt when we saw what was done is being taken very seriously," Marshall Gobuty, developer of Mirabella Florida in Bradenton, said in a statement.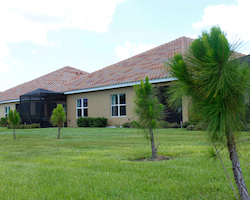 The reward is being offered for information that leads to the capture, conviction and payment of restitution by those responsible for the damage.
The trees (some of which are pictured, left, before they were cut down) also served as a physical barrier between Mirabella Florida — on which construction began in 2015 and is ongoing, with 160 residences planned — and the neighboring 55+ community, the 1,001-residence Village Green.
The developer plans to plant replacement trees and in the meantime has turned over to local police and private investigators "some disturbing and threatening emails from residents of a neighboring community" that Gobuty said Mirabella Florida received not long after planting the trees.
"We are not saying those same people were involved, nor are we accusing the neighboring community's leadership of condoning anything," he added.