September 18, 2015
Where affordability, income are highest, lowest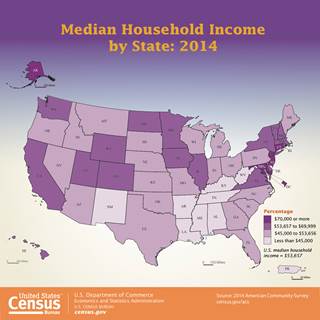 The darker the purple, the higher the median household income.
Location, location, location is still the most important factor for those considering a move, according to newly released research from Trulia. That's because geography doesn't just determine the price of housing; it also affects costs related to utilities, travel time and "non-housing essentials."
The online real estate and rental listing company released lists of the most and least affordable places to live in the United States based on the percent of monthly middle-class income spent on housing, commuting and utilities.
The most affordable places to live, according to the company:
Akron, OH

Dayton, OH

Louisville, KY

Kansas City, MO

Wichita, KS

Little Rock, AR

Cleveland

Toledo, OH

Syracuse, NY

St. Louis
The least affordable places to live:
San Francisco

Los Angeles

Miami

San Diego

Orange County, CA

San Jose, CA

Ventura County, CA

Honolulu

Oakland, CA

Fairfield County, CT
Trulia released its data a day before the U.S. Census Bureau released the latest data on median income from its American Community Survey (see graphic).
For 2014, the bureau found, median household incomes were lower than the U.S. median ($53,657) in 28 states and higher in 18 states and the District of Columbia. Rhode Island, Vermont, Iowa and Pennsylvania median household incomes did not have a statistically significant difference from the United States as a whole.
Maryland had the nation's highest median household income in 2014, $73,971. New Jersey ($71,919), the District of Columbia ($71,648) and Alaska ($71,583) followed, but the Census Bureau said that these figures were not statistically different from one another. Mississippi had the lowest median household income, at $39,680.