September 14, 2015
Where the U.S. ranks as a place for older adults to live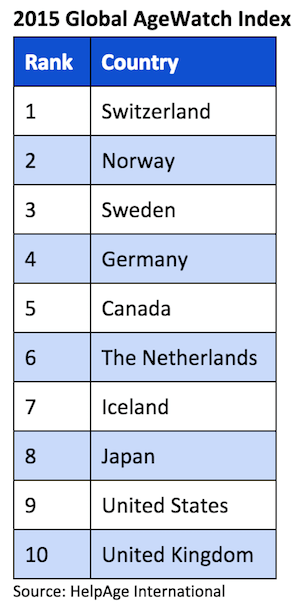 Global AgeWatch Index, 2015
The United States ranks as the ninth best place in the world for older people to live, according to a new report from HelpAge International. Switzerland took top honors, closely followed by Norway and Sweden.
The Global AgeWatch Index, completed in partnership with the University of Southampton in England, considered the social and economic well-being of adults aged 60 or more years in 96 countries, representing 91% of the world's older adults, or 901 million people. It measured the lives of older people in four key areas: income, health, education and employment, and the enabling environment.
"The Index is a step on the road to people fulfilling their potential at every stage of life," Toby Porter, chief executive of HelpAge International, said in a statement. "Today, in all countries of the world, the proportion of older people is growing. By 2050, 46 of the 96 countries in the index will have 30% or more of their populations aged 60 and over. We have just 35 years to prepare."
Countries investing in improving the lives of older people appear at the top of the index, note researchers. These countries are implementing policies that promote social pensions, accessible healthcare and the enabling of physical and social environments for older people.
Apart from Japan, number 8, all the top 10 countries are in Western Europe and North America. Afghanistan ranked last.