August 31, 2017
White House nixes pay data submission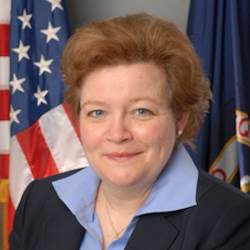 Victoria Lipnic
Employers no longer will be required to submit summary employee pay data to the Equal Employment Opportunity Commission beginning in March.
The White House on Tuesday nixed the rule containing the requirement, saying it would burden employers and that it had other problems.
As McKnight's Senior Living previously reported, the rule would have required businesses with 100 or more employees that submit the Employer Information Report, also known as the EEO-1 report, to submit summary data by pay ranges and hours worked. That new information would have been submitted along with the workforce data by race, ethnicity, sex and job category that employers have sent to the EEOC via the form for more than five decades.
Employers would not have been required to report individual pay or salaries or any personally identifiable information, but the EEOC had said previously that the new summary data would help it investigate possible pay discrimination.
Tuesday in a memo to EEOC Acting Chair Victoria Lipnic, however, Neomi Rao, administrator of the Office of Information and Regulatory Affairs in the White House Office of Management and Budget, wrote, "Among other things, OMB is concerned that some aspects of the revised collection of information lack practical utility, are unnecessarily burdensome, and do not adequately address privacy and confidentiality issues."
LeadingAge had expressed similar concerns about the rule in an April 2016 letter to the government posted on regulations.gov.
"We are concerned that the proposal will not provide sufficient information with which the commission can make an accurate determination as to whether an employer is engaging in discriminatory pay practice," Cheryl Phillips, M.D., at the time the organization's senior vice president of public policy and health services, wrote in the letter. "Additionally, we are concerned about the difficulty and attendant costs associated with producing the required information."
Lipnic said Tuesday that the White House decision clarifies to employers their responsibilities.
"I had consistently urged OMB to make a decision on this matter so that stakeholders would be aware of their reporting obligations," she said.
The previously approved EEO-1 form, which collects data on race, ethnicity and gender by occupational category, will remain in effect, Lipnic said. Employers should plan to comply with the earlier approved EEO-1 form by March, she added. The agency has posted instructions online.
The EEOC is reviewing its options following the stay of the newer rule, Lipnic said.
"I do hope that this decision will prompt a discussion of other more effective solutions to encourage employers to review their compensation practices to ensure equal pay and close the wage gap," she said. "I stand ready to work with Congress, federal agencies and all stakeholders to achieve that goal."