June 05, 2016
Woman stole more than 3,000 items from senior living residents, authorities say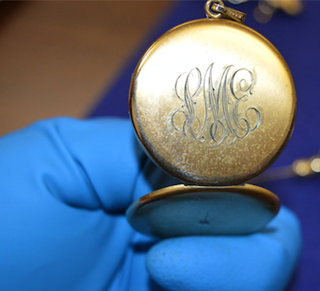 Authorities are trying to find the owners of this piece of jewelry and other valuables.
Law enforcement officials in Ohio are compiling evidence against a woman they believe stole more than 3,000 pieces of jewelry, watches and other valuables from at least 43 residents of a dozen senior living communities over the past six years.
The owners of some of the items have been identified. "We are trying to locate additional victims and help them recover their stolen property," the Delaware County Sheriff's Office said in a posting on its Facebook page that included photographs of some of the items. The thefts occurred in Delaware and Franklin counties, which are in central Ohio near the state capital of Columbus.
Authorities allege that the items were stolen by a 55-year-old former senior living community employee who wore medical scrubs and an identification badge and carried a notebook and large purse as she entered and exited rooms in the communities, according to the Columbus Dispatch. The woman has not been named yet but is expected to be charged.
The case began when a senior living resident called police to report that items were missing. A video camera at the communities where the resident lived showed the potential suspect entering rooms while residents were in the dining room, according to a search warrant affidavit. Additional tips came in when the sheriff's office posted images to its website. Authorities subsequently confiscated the jewelry and other items from the woman's home.
Photo from Delaware County Sheriff's Office Facebook page.