June 27, 2018
Worker freedom or rigged system? Groups weigh in on Supreme Court union decision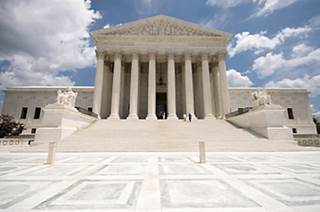 Worker freedom or rigged system? Groups weigh in on Supreme Court union decision
Wednesday's U.S. Supreme Court decision that public-sector unions can't collect fees from nonunion employees without their explicit consent is either "a long-awaited victory for worker freedom" or "yet another example of how billionaires rig the system," depending on which group one asks.
The court issued a 5-4 decision in Janus v. American Federation of State, County, and Municipal Employees, Council 3, et al., overturning a 40-year-old Supreme Court decision. Petitioner Mark Janus, a child support specialist with the Illinois Department of Healthcare and Family Services, had argued that he should not have to pay "agency fees" or "fair share fees" to a union as a condition of employment. Such fees from nonunion workers, allowable since the 1977 case of Abood v. Detroit Board of Education, are meant to help cover costs related to collective bargaining.
Justice Samuel Alito, who wrote the court's majority opinion, agreed with Janus. "This procedure violates the First Amendment and cannot continue," he wrote. Alito was joined by Chief Justice John Roberts and Justices Neil M. Gorsuch, Anthony Kennedy, Clarence Thomas.
Pro-union groups had argued that workers who don't pay dues should not be able to realize the benefits of collective bargaining.
"There is no sugarcoating today's opinion," Justice Kagan wrote in a dissenting opinion. "The majority overthrows a decision entrenched in this Nation's law — and in its economic life — for over 40 years. As a result, it prevents the American people, acting through their state and local officials, from making important choices about workplace governance. And it does so by weaponizing the First Amendment, in a way that unleashes judges, now and in the future, to intervene in economic and regulatory policy.In a dissenting opinion."
Kagan was joined in the dissent by Justices Ruth Bader Ginsburg, Stephen Breyer and Sonia Sotomayor.
Sotomayor also issued a separate dissent saying that the majority used the First Amendment in "an aggressive way."
'Long-awaited victory'
Trey Kovacs, a labor policy analyst with non-profit libertarian think tank Competitive Enterprise Institute, said the ruling was "a long-awaited victory for worker freedom."
"Nearly 5 million public-sector workers' First Amendment rights have been restored, and they are free to choose whether or not to pay for union representation," he said. "Now unions, like any other private organization, will have to provide services workers value for their dues money and will be held accountable to their membership."
"Members-only" unions, Kovacs said, offer a solution for both unions and workers. Unions would be obligated to represent only the interests of the workers who choose to join and pay dues, and workers would be free to join a union or forego union representation and negotiate directly with the employer, he said.
'Billionaires rig the system'
On the other side of the case, Mary Kay Henry, president of Service Employees International Union, which has members who work in healthcare jobs, said the ruling "is yet another example of how billionaires rig the system against working people."
Members will continue to help workers form unions and will lobby elected officials to "do everything in their power to make it easier for working people to join together in unions," she said.
SEIU, in a joint statement with leaders and members of AFSCME, the American Federation of Teachers and the National Education Association, called the Supreme Court decision a "rallying point" and said unions "remain the most effective vehicle for the power in numbers working people need to secure their rights and freedoms and provide a pathway to the middle class."
Groups representing the senior living industry either said they hadn't been following the case, had no comment or did not respond to requests for comment from McKnight's Senior Living.