May 03, 2016
Caremerge redesigns app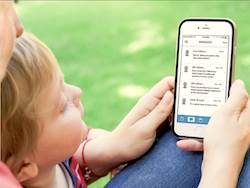 Caremerge redesigns app
Caremerge has launched a redesign of its family engagement app, which is designed to facilitate communication between families, senior living community staff members and authorized healthcare providers.
"We worked hard to make it even easier for families and healthcare providers to share real-time, safe and secure information regarding the care of a loved one, which is an important step to providing a cohesive and collaborative higher quality of care for residents in senior living," said Asif Khan, CEO of Caremerge. "The family app provides a platform to share joyful moments and connect families worldwide, so no one ever worries or feels disconnected."
The app is designed to be an easy-to-use, "one-stop shop" for families of those who reside in senior living communities, giving them access to information regarding the day-to-day activities of their loved ones on a secure, HIPAA-compliant platform via their mobile devices or computers. The redesign streamlines the app and gives it a new look.
New features:
A member screen that allows family members to request access to their loved one's community.
An activity feed that loads a loved one's activities in chronologic order, with the ability of a family member or healthcare provider to assess a resident's well-being.
Push notifications sent to authorized family members when a loved one attends an event.
A resident's authorized care locations have been added to the app, along with a map, so a family member can call a loved one's preferred pharmacy, doctors, salon, etc., directly from the app and can view its proximity to their loved one's senior living community.
Fully HIPAA-compliant family-to-family, family-to-staff, staff-to-staff and staff-to-family messaging, with a new message thread design.
A community calendar view that features a wellness-related icon, event time, event title, service level, attendance and more.
An anonymous survey that allows family members to provide feedback about the community, staff and services. Results can be used to positively affect the care of a loved one.