December 11, 2015
Company offers care packages for residents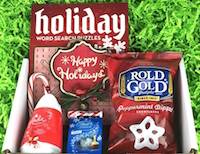 Company offers care packages for residents
Personal experience led Kyle Ems to create a monthly subscription care package, Senior Care Box, that can be sent to older adults residing in senior living settings and others. Ems and his wife visited a home-bound great aunt but experienced subsequent challenges in planning visits or sending care packages due to time constraints.
Each Senior Care Box contains at least five items, such as a puzzle book, a box of tea, hand lotion, mints and dried fruit. Each box also includes a historical photo and stamped postcard. Box recipients are encouraged to send memories relating to the picture to Senior Care Box for sharing on its blog and in the following month's box with other submitted stories from around the country.
"Learning about historical experiences has strengthened my relationship with and appreciation for my senior relatives," the Indianapolis-based Ems said. "Great Aunt Wilma passed away earlier this year, which makes us treasure her stories even more and emphasized to us the need to capture memories from the Greatest Generation while we can."
A corporate gift option is also available for senior living housing and service providers. Senior living communities can send care packages to residents and prospective residents in custom-labeled boxes that feature the community logo on it and, if desired, a personalized letter to the recipient and community-specific promotional products inside.
"Our care packages strengthen relationships with clients, resulting in decreased client turnover and convert[ing] your clients into business advocates," Ems says. "We strive to save senior service professionals time and money while providing the most unique, thoughtful gifts to their clients."