July 06, 2017
Eldermark introduces early intervention tool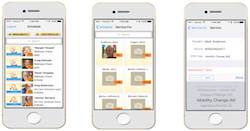 Eldermark introduces early intervention tool
Eldermark Software has launched Wisdom2Act, an early intervention tool for senior housing communities.
The tool is designed to track changes, streamline the care process, encourage early intervention and improve outcomes for residents.
"We designed Wisdom2Act after listening to executives, clinicians and those on the frontline senior living care teams," Eldermark founder and CEO Craig Patnode said in a statement.
Wisdom2Act directly links the care team to clinicians in real time, via personal handheld devices, with four steps:
Change observed.

A caregiver observes a change in a resident's condition — perhaps a change in gait or balance or changes in personality or behavior that could be signs of an adverse drug reaction or urinary tract infection.

Change documented.

The caregiver documents the change as an alert, using a mobile device in real time. Wisdom2Act is deployed through Eldermark Point of Care on a smartphone or other mobile device.

Automated alert to nurse.

The caregiver's alert automatically is routed to the nurse or other designated health professional. The alert remains active until the issue is resolved.

Action.

The nurse and care team follow up with appropriate action, including conferring with pharmacists, physicians and other clinicians.
Wisdom2Act is the newest addition to Eldermark's Point of Care mobile software and is available nationwide.