December 29, 2015
Eldermark tools in use at Avanti Senior Living at Towne Lake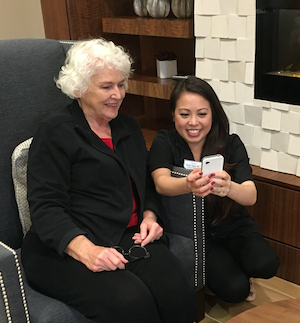 Wellness Director Natalie Nguyen reviews daily tasks with resident Pat Ham and shows her Notify.
Avanti Senior Living at Towne Lake, Cypress, TX, has started using Eldermark's new electronic health records system and its nurse call system, Notify. The tools enable nurses to answer calls in five minutes or less, and nurses have all the information they need on mobile devices.
The paperless Notify system is designed to ensure accountability for resident care and allows nurses to update and review data in EHRs and receive resident calls.
"The new system is very thorough and user-friendly," said Natalie Nguyen, wellness director at Avanti Senior Living at Towne Lake. "Prior to Notify, my team and I had to use a piecemeal system that relied on paper charts to update resident records and keep track of their needs. Now, everything is in one place, available at the touch of a fingertip and updated as it is happening."
Nguyen said she appreciates that the system enables the community to be more environmentally friendly as well as more efficient. "We can pull up these electronic charts and update them immediately, versus having to go find their paper chart on the floor and make updates across multiple copies. It saves us so much time, which allows us to make more efficient use of our day and have more meaningful interactions with residents."
The system operates through WiFi and cannot be used to text or call outside of the community.
"The appeal of working with Eldermark was that we were able to collaborate to create a customized system that serves residents at our communities in the best way possible," said Tim Hekker, CEO of Avanti Senior Living. "We wanted a system that would not only ensure better care, but would allow us to individualize everything for our residents as well. For example, we can customize something as simple as their laundry service. We can set the laundry service for the time that works best for them and include specific instructions on how and where they want their clothes delivered. We keep these electronic notes in their service plan. Another example is for couples we have residing in our communities. Perhaps the wife usually bathes her husband but will be out of town for a week and needs to schedule baths while she is gone. We can assist with these services and schedule them as needed."
Avanti also plans to use the system to help determine when adjustments to service or care plans are needed.
Point of Care gives team members access to resident profiles, care assessments, reminders, calendars, healthcare records, daily tasks, grooming schedules, transfer schedules, photos and logs of visitors. Eldermark HIE has both direct messaging and query capabilities, which allow Avanti team members to share the healthcare records with hospitals, clinicians and doctors.