October 31, 2016
Employee engagement, customer experience focus of new products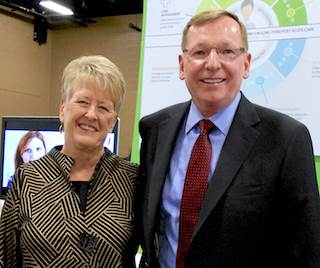 Jan and Neil Gulsvig of Align.
PointClickCare and Align have partnered on two offerings for senior care providers to help manage employee engagement, improve resident outcomes and achieve a stronger bottom line.
The PointClickCare Employee Engagement and PointClickCare Customer Experience are being showcased in PointClickCare's booth, 3429, through Wednesday at the exhibit hall at LeadingAge's annual meeting in Indianapolis. These new solutions, powered by Align, are designed to enable care providers to prioritize their efforts and establish a road map for staff success.
"In today's world, it is an absolute strategic business priority for organizations to have engaged staff. Not satisfied staff — there's a distinct difference — but engaged staff," Jan Gulsvig, RN, BSN, LNHA, chief operating officer of Align, told McKnight's Senior Living. "That's known to drive the returns on investment that organizations are looking for, including customer experience. That's why customer experience and employee engagement really do go hand in hand."
The products enable organizations to:
Capture feedback on satisfaction from residents.
Leverage assessment results to improve performance outcomes and quality care.
Create custom questions to drill into precise information desired.
Gain access to consultation services to help execute, at the department level (the level closest to employees), on strategic decisions that help navigate the employee and customer experience.
"Your customer experience will never, ever be any better than your employee experience," Neil Gulsvig, CEO of Align, told McKnight's Senior Living. "When people think they can just focus on the customer experience, without the employee experience being that good, they're not going to get the outcomes they're looking for."
The Gulsvigs are the founders of Align and together have more than 75 years of experience in senior care industry.