December 22, 2015
New book details aging process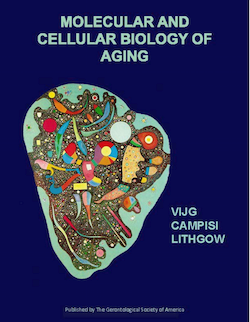 Molecular and Cellular Biology of Aging
A new e-book published by the Gerontological Society of America provides detailed overviews of the aging process across multiple organisms, from microbes to humans.
"Molecular and Cellular Biology of Aging" explores how basic aging processes relate to age-related disease and how aging and longevity are subject to both gene-gene and gene-environment interactions. The book is broken down into 10 sections, with a total of 34 chapters written by top scholars in biologic sciences.
"This long-awaited textbook provides the first comprehensive description of modern thinking, experimental results, interpretations and controversies in this growing and fast-evolving field. The e-book format will allow frequent updates, making the textbook a unique and perpetually contemporary guide to the field," said one of the book's lead editors, Judith Campisi, Ph.D., of the Buck Institute for Research on Aging and the Lawrence Berkeley National Laboratory.
The entire book as well as its individual chapters are available for download at GSA's online store.