April 25, 2016
Onköl hub wins 2016 Edison Award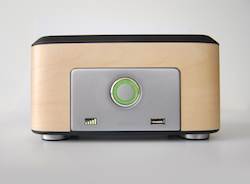 The Onköl hub.
The Onköl hub won the 2016 Edison Gold Award in Health and Wellness – Safety & Health Monitoring on April 21, the startup company announced.
The device simultaneously links a wide variety of third-party home- and health-monitoring sensors to keep older adults connected to family members, professionals and data platforms.
"We are committed to making the Internet of Things work for the benefit of seniors everywhere, and this award further validates our unique approach to solving that problem," Erich Jacobs, CEO of Onköl, said in a statement. "By combining beautiful design with an innovative technology infrastructure, we make it easy to provide home and health information directly to seniors and those that care about them."
The Edison Awards honor excellence in new product and service development, marketing, design and innovation. Nominees were judged by a panel of more than 3,000 business executives, including past award-winners, academics and leaders in the fields of design, engineering, science and medicine.