January 30, 2017
OnShift introduces employee engagement software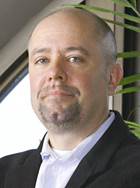 Mark Woodka
Human capital management software company OnShift has introduced its new OnShift Engage cloud-based software, designed to help increase staff satisfaction and employee engagement to improve organizational performance.
"The workforce issues that long-term care and senior living providers face have become incredibly intense, many of which stem from a workforce that is simply not engaged," said Mark Woodka, CEO of OnShift. "OnShift Engage is a monumental step toward helping providers advance a culture and environment where employees feel valued, actively work toward the goals of the organization and ultimately stay with the employer long-term."
OnShift Engage can measure staff satisfaction, track employee performance and facilitate communication in several ways:
Surveys capture staff feedback in real time so managers quickly can take action.
An automated, points-based rewards system tracks and incentivizes employee behaviors so contributions are highlighted and rewarded.
Prompted messaging facilitates consistent communications to strengthen the relationship between managers and employees.
Onboarding dashboards monitor new employees to promote retention.
The software uses employee shift, attendance and performance data to provide real-time insights so that managers and supervisors can identify high- and low-performing employees and take action where needed.
Dan Leamon, executive vice president of operations for Altercare of Ohio Inc., a provider of assisted living, memory care, skilled nursing and rehabilitation with 20 locations in Ohio and Michigan, said his organization views OnShift Engage as a way to differentiate itself and improve employee retention.
"The ability to easily provide feedback, spur communication and recognize good work feeds directly into what our employees want and what they expect," he said. "Employee engagement is one of the top priorities at Altercare, and we are excited to use OnShift Engage to help us achieve this goal."