September 28, 2015
Senior living pendant is waterproof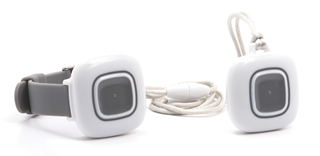 The Inovonics EN 1221S-60 wrist and neck lanyard.
Inovonics has released its new EN1221S-60 waterproof senior living pendant. This new pendant is designed to enhance independent and assisted living community residents' ability to call for help.
The new pendant comes in tailored wrist and neck lanyard options. Residents wearing the pendant may press the button at any time if they feel they need help or have an emergency. Once the button is pressed, the device notifies caregivers through an emergency call system.