October 29, 2015
Sherwin-Williams paint kills bacteria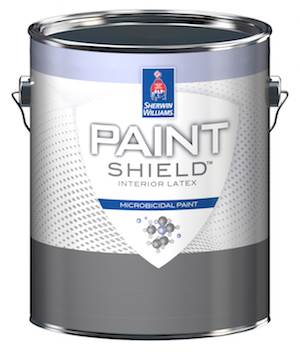 Sherwin-Williams paint kills bacteria
Sherwin-Williams has announced the first EPA-registered microbicidal paint designed to continuously kill difficult-to-treat, infection-causing bacteria after two hours of exposure on painted surfaces.
Paint Shield should be available in Sherwin-Williams stores in the United States starting in the first quarter of 2016, according to the company. It will be available in 590 colors.
"Paint Shield is one of the most significant technological breakthroughs in our nearly 150 year history of innovation," said Chris Connor, chairman and CEO of Sherwin-Williams. The patented technology in the paint represents the culmination of extensive research and collaboration between Sherwin-Williams coatings scientists and microbiologists, according to the company.
The paint can be applied on interior hard, non-porous ceilings, walls, doors and trim. Surfaces painted with the new paint kill more than 99.9% of Staphylococcus aureus, Methicillin-resistant S. aureus), Escherichia coli, Vancomycin-resistant Enterococcus faecalis and Enterobacter aerogenes after two hours of exposure, according to Sherwin-Williams. EPA-test protocol showed that once it is applied, the paint is effective for up to four years, as long as the integrity of the surface is maintained.