October 31, 2016
Sodexo, Connected Living announce partnership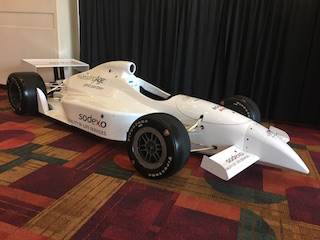 This car, with the Sodexo logo, is on display at the LeadingAge annual meeting in Indianapolis.
Sodexo says that its partnership with Connected Living, which formally was launched at the LeadingAge annual meeting in Indianapolis, will help generations connect with one other and access goods and services.
"By combining Connected Living's award-winning technology solutions with Sodexo's leading services, we can now offer operators of senior living communities the confidence that they are providing the best quality-of-life services for their families and residents," said Joe Cuticelli, CEO of Seniors for Sodexo in North America.
Connected Living's private social networks and technology enable staff members at senior living communities to engage with residents, families and prospective residents inside and outside their buildings.
The company's recently released mobile app, which is free, is designed to enable family members of all ages to stay in touch despite geographic distances and busy schedules. The app also provides content and access to goods and services such as food and transportation. It is available for iOS devices; an Android version will be available next year.
"Being connected is a right, not a privilege, and that is why we have created an app that is a free download, accessible to everyone, that will make a connected life a reality to so many on the other side of the digital divide," said Sarah Hoit, CEO and co-founder of Connected Living.
Connected Living just launched a campaign to "Connect One Million" seniors and their families together with public and private partners, including Sodexo.
Visit Sodexo in booth 4826 at LeadingAge and Connected Living in booth 5121.