May 08, 2016
Stanley Healthcare highlights emergency call, fall monitor systems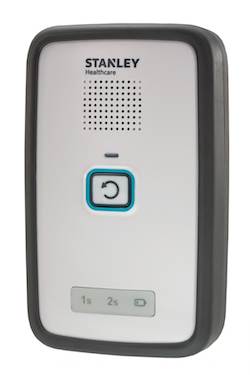 The M200 fall monitor system.
Stanley Healthcare will highlight product innovations and new integrations designed to enable senior living communities to better navigate the complexities of varying state regulations in booth 115 during exhibit hours at the Argentum Senior Living Executive Conference in Denver.
The Arial emergency call solution provides wireless emergency call and is capable of integrating events from a wide range of systems and providing that information on a range of mobile devices.
The new Arial emergency call pendant is 60% smaller and lighter than the current pendant, according to Stanley, and now features a large button, positive feedback to confirm that the pendant has been activated or cleared, and new options designed to ease alarm-clearing by staff.
The M200 fall monitor system combines what Stanley says is the widest set of features with an intuitive user interface and flexible deployment options. The result is a single unit capable of meeting multiple use cases and state regulations, according to the company.
The By Your Side customer care program has been redesigned with three new tiered options — EssentialCARE, AdvancedCARE and PremiumCARE — to meet the diverse needs of the senior living industry, from single-facility operators to national organizations.
Exhibit hall hours are 10 a.m. to 1:30 p.m. on Tuesday and 10:15 a.m. to 1:15 p.m. on Wednesday. Lunch will be served in the hall on both days.