September 07, 2017
Stanley Healthcare named Vendor Company of the Year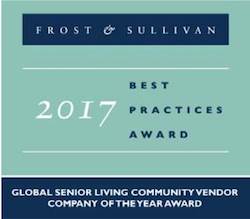 Stanley Healthcare named Vendor Company of the Year
Stanley Healthcare has been named 2017 Global Senior Living Community Vendor Company of the Year by business consulting firm Frost & Sullivan.
The recognition is part of Frost & Sullivan's Best Practices Awards, which will be presented Sept. 18 at Frost & Sullivan's Growth, Innovation & Leadership Awards Gala in Austin, TX.
"We are very pleased to receive this acknowledgement of our leadership in technology to support the well-being and safety of senior living residents," Marty Guay, president of Stanley Healthcare, said in a statement. The company makes technology for emergency call, wander management, fall management, staff security, facility security and temperature monitoring.
Frost & Sullivan cited Stanley Healthcare's breadth of offerings and innovation in the internet of things to integrate a variety of sensors and other wireless technology. Stanley Healthcare is working to realize the "Smart Resident Room," which will integrate sensors to enable senior living communities to monitor residents unobtrusively while they carry on with their daily activities.
The award citation also noted the company's service and customer support.
"The purpose of the Best Practices Awards is not just to recognize the leaders in particular markets, but to highlight the factors that make them successful, such as technological innovation, customer service and strategic product development," said Siddharth Shah, an industry analyst with Frost & Sullivan. "Stanley Healthcare's approach to the market — combining a broad vision, deep understanding of its customer and excellent support — provides a compelling model of successful innovation centered on market needs."
Stanley said it serves more than 12,000 senior living and long-term care organizations, including Newton, MA-based Five Star Senior Living.
"We have worked with Stanley Healthcare over many years to deploy its resident safety solutions at a number of our communities across the country," said Scott Herzig, chief operating officer of Five Star Senior Living. "We chose to partner with Stanley Healthcare because of their leadership position in safety and security and their ability to work with us on a national scale to improve our service to residents."