November 20, 2015
Tablet made for healthcare settings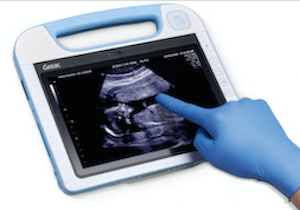 The Getac RX10H tablet.
Getac has introduced a new tablet for use in all healthcare settings. The RX10H is designed to help doctors, nurses and home health providers to gather patient / resident information and expedite administrative paperwork from a single device, supporting the efficient delivery of services.
The tablet weighs about 2.5 pounds and has a 10.1-inch full high-definition display and multitouch screen that can be used while using a stylus, digitizer or gloves.
It also offers:
Multifactor authentication, including password protection, RFID reader, fingerprint reader and smart card reader. In addition, TPM 2.0 and Absolute DDS further enhance security to protect private health information.
An IP54-rated keyboard providing protection against dust and liquid spills.
A LifeSupport battery, allowing users to replace the battery with a fresh one without shutting down applications or the operating system.
The ability to operate in temperatures ranging from -5.8 degrees to 131 degrees F.
Protection against four-foot drops, shock, spills, vibration, dust and liquid. The RX10H has been independently tested and certified to MIL-STD 810G and IP65 standards, where special sealing and fanless design prevent liquids from entering the device during cleaning or wet environments.
The tablet also is certified to medical regulations EN/IEC 60601-1 and incorporates an antimicrobial surface to resist the growth of harmful organisms. Options for the RX10H include a detachable keyboard that transforms from a tablet to a laptop.
The tablet is available for immediate order, starting at an MSRP of $1,999.99, and will begin shipping December through Getac authorized resellers.